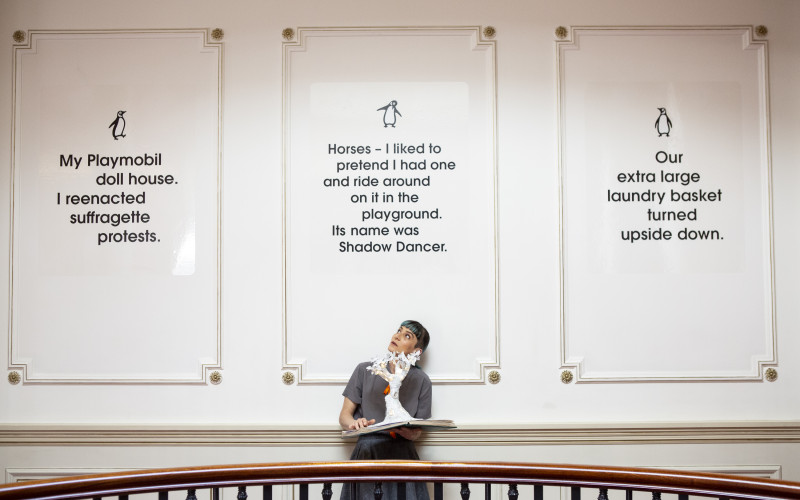 Penguin Imagines
Penguin and Riot PR asked us to collaborate to make 2019's Penguin Presents Show.
In its 2nd year as a theatre show at the Palladium they wanted us to come up with a concept and collaborate with them creatively to fuse Immersive and stage performance with presentation of their big authors for the coming year.
But we were to be sure to make it playful and imaginative and unexpected: a cohesive show as opposed to an episodic presentation of authors.
Starting with the title, Penguin Imagines we were immediately drawn to our own childhood imaginations, the start of our own relationship with books and reading. The love of reading develops at such an early age and, we really believe it should be nurtured and cared for. So, tasked with exploring the true power of publishing, we thought of the kids and we thought of us as kids and also, of the old adage of 'show me the boy at 7 and I will show you the man' (this works for girls and women too folks!)
We were delighted to devise ways to integrate the childhood memories of staff, authors and external guests and transport our audience back in time to explore their own and others' 7 year old selves and to genuinely contribute to the shape of the event and immerse the audience in this idea of Penguin Imagining.
The Characters they met, the things they read, the sets we designed and the props they came across were all devised from the memories we garnered from the audience.
Kate Hargreaves, Lucy Hall and Adam Neville made up the core team who worked in the most rewarding collaboration with the staff of Penguin Random House.
Meeting, directing and creating for the likes of Ai Wei Wei, Bill Bryson, Stormzy, Malorie Blackman, Cerys Matthews, Kerry Hudson and Darren McGarvey was an enormous treat on top of all of this.
We conceived and devised all aspects of the aesthetic and performance with PRH & their branding agency Riot PR and then we got to work with some truly brilliant companies and individuals that we commissioned to bring certain elements to fruition.
Holotronica (who we've been desperate to work with) made an incredible 3D Holographic finale to accompany a touching poem by Cecilia Knapp from the Poems Out Loud book. We worked with two fantastic young readers from London Primary schools to bring the reading and stage presentation to life.
Limbic Cinema created all the video content for projections on stage and worked so patiently with us as we made the (extensive) necessary changes as the author list coalesced. What they made was visually stunning and so in tune with what we'd imagined.
John Colville lit the whole show beautifully and we got to work with the splendid Ed Borgnis as Production Manager.
Some of our favourite immersive performers devised the stage transitions and front of house performance to immerse the audience from the moment they arrived to the moment they left the theatre.(Kathryn McGarr, Matt Costain, Adam Redmore, Syvia Mercuriali, Aoi Nakamura, Kate Ashcroft and Nicola Jallim (who we met in our work with students at the University of East London)
Our fantastic musician friend, Sarah Anderson composed a specially commissioned piece to accompany the Big Books section.
Alice Lessing and Elisa Nader created the costumes and Anna Inglis Hall and Paul Rogers were on Hair and Make Up.
And our friends Get Lost and Found entertained the audience in their seats with a giant word game.
Then Speedwagon and Chris Lopez recorded it all on film and in photographs for us.
Thanks to all who were involved and collaborated (thats the whole audience too).
We were immensely proud of what we all made together.